Legacy Solutions
Browse Legacy Solutions from American Business Copiers, Inc.
Featuring Canon's MEAP technology, the imageRUNNER 5070 delivers unmatched performance and durability to large-sized offices and departments.
The MEAP-enabled imageRUNNER 5065 is a 65-ppm device designed for mid-to-high volume office environments that require varied applications with advanced document handling capabilities.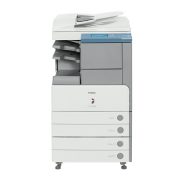 The imageRUNNER 5055 device offers advanced finishing capabilities and the latest Canon technology to mid-to-large-sized offices and departments.
The imageRUNNER 5050 delivers advanced document handling and finishing capabilities to mid-to-high volume office environments operating at speeds up to 50ppm (LTR).
The 50-page-per-minute imageRUNNER 5020i prints, scans, and sends all in one compact device, allowing it to act as a central communications device for corporate departments and workgroups.
Operating at speeds of 50-pages-per-minute, the imageRUNNER 5020's value is derived from its customization capabilities that can be developed to meet individual customer needs.
Delivering exceptional productivity, ease-of-use, and reliability, the imageRUNNER 5000V is a multifunction solution that busy corporate departments can depend on.
Designed to meet the needs of large workgroups and corporate departments, the imageRUNNER 5000 is a 50-ppm, high image quality, digital multifunction solution that can easily be upgraded to deliver network printing.
The 45-page per minute MEAP-enabled imageRUNNER 4570 can be the centerpiece of mid-size office communications with its advanced features, and customization capabilities.