All Solutions
Browse Canon Copier Solutions from American Business Copiers, Inc.
The DR-4010C color document scanner features state-of-the-art scanning technology that delivers exceptional image quality and speed. With all the features you'd expect in a document scanner and more, the DR-4010C model turns stacks of documents into digital files with exceptional speed, accuracy, and ease, while taking up minimal desktop space.
The DR-5010C is a compact, high speed document scanner packed with extensive features for seamless, hassle-free scanning.
The Canon DR-5020 Desktop Document Scanner makes short work of your high-volume document imaging applications.
With scanning speeds of up to 60 pages-per-minute, the DR-6080 is an affordable high-speed production scanner, incorporating Canon's renowned image quality and reliability for optimized throughput.
The DR-7080C achieves a new level of efficiency, providing high-speed color scanning for batch scanning needs, as well as fast and easy flatbed scanning.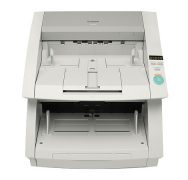 The DR-7580 is a high-performance desktop production scanner that offers outstanding image quality, easy handling, and versatility all at a price to suit virtually any company's budget.
Redefining price and performance, the DR-9080C is a standout for advanced technology, but even more, it finally brings high-speed color, production-level scanning within reach of budgets that never could have justified it before.
The imagePROGRAF iPF5000 17" printer is designed to satisfy the most critical printing needs of all types of digital artists. By bringing together 12-color pigment inks, the two print head system with 30,720 nozzles and the L-COA Controller the iPF5000 gives the user the ability to create brilliant output at unrivalled speeds.
The Canon imagePROGRAF iPF600 24-inch large format printer produces stunning, color, full-bleed posters, line drawings and documents quickly and easily. Its 24" output will impress clients and colleagues by communicating visual layouts with exact lines bold text and dynamic color.